Eco2School Climate Story Share Contest
Submit your climate story!
Although the YES Conference was postponed for this year, Spare the Air Youth wants students and families everywhere to engage in climate change conversations. STAY has partnered up with Eco2School for an inspirational climate story share contest!
How does it work?
YES Conference 2020 Postponed
March 10th: Conference update
Due to concerns around the coronavirus, and in accordance with guidance from local health officials, the Air District will postpone our upcoming YES Conference scheduled on Saturday, March 28, 2020 at El Camino High School in South San Francisco. The health, safety and wellbeing of our attendees, presenters and staff are top priorities for the Air District.
Register for the 2020 YES Conference
The YES Conference will provide an opportunity for young climate leaders to exchange ideas, participate in workshops, and formulate strategies to encourage clean transportation and healthy living in their communities. Students are strongly encouraged to present and showcase their work at the conference by registering to become a presenter. 
Siena Youth Center's Bulldog Riders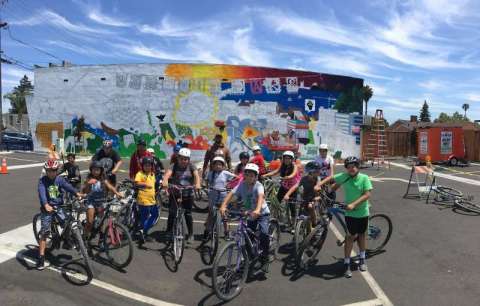 "You've got to sweat with them, and get on their level" said Siena Youth Center director Rafael Avendaño, when asked what is the recipe for successful youth engagement. Coach Rafa (as he likes to be referred to) leads the Bull Dog Riders, a youth advocacy group run out of the Siena Youth Center that is pushing elected officials to pay attention to and support youth within the unincorporated North Fair Oaks community in San Mateo County.
Equity and Inclusion Resources
Spare the Air Youth is always seeking to be more mindful of our impact on the world around us. To that end, those of you who attended the last Advisory Committee meeting heard our acknowledgement of the First Peoples on who's traditional territories we live and work. Acknowledging territory shows recognition of and respect for Aboriginal Peoples. It is recognition of their presence both in the past and the present. Recognition and respect are essential elements of establishing healthy, reciprocal relations.