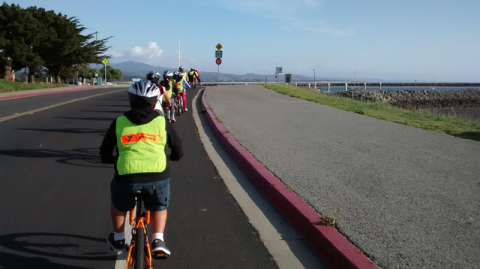 Read on for a parent's story shared with us by Rachel Del Monte, MNA. Rachel is the Executive Director of The Peninsula Family YMCA.
The YMCA's areas of focus are youth development, healthy living, and social responsibility. YBike supports all three of these areas of focus as we help kids and families get active, collectively reduce emissions and traffic, and create opportunities for youth leadership and team work. We couldn't do this without the support of Spare the Air. The following letter was written by a parent about YBike.
"I understand you ran the bike workshop that took place last week at Vallemar School. I just wanted to personally thank you for the amazing job you did with this program. My son, is a third grader at Vallemar and could not ride a bike. We had tried several times to teach him unsuccessfully. He is getting older and we were afraid we would not ever teach him. He is not super athletic and not very confident when it comes to these types of things. In one day, you managed to not only teach him HOW to ride a bike, but to LOVE it. All of this was done in a way where he felt comfortable, not embarrassed and was grouped with other kids who were at a similar level. He also got a new helmet (which was perfectly fitted) and a great lesson in bicycle safety.
My wife sent me a video of him riding on our street when they got home from school that day. I was at work, tears streaming down my face as I watched him riding up and down the block yelling 'I am doing it, I am doing it.' He is so happy. Now he wants to go riding all the time with his little sister who happened to get a bike for Christmas. It did great things for his confidence as well as motivating him to want to be active. This is a big deal for him and incredibly meaningful to us."
Thanks for sharing this story with us, Rachel! We are proud to support this important work.