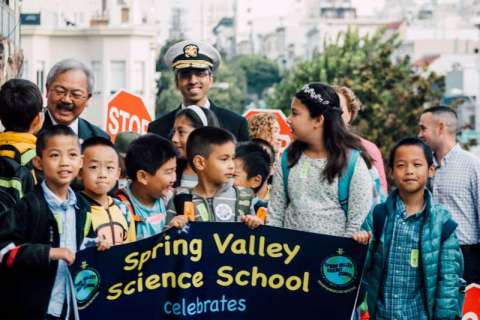 By Ana Validzic of the San Francisco Department of Public Health
The San Francisco Safe Routes to School Partnership (SF SRTS) and Walk San Francisco organize San Francisco's annual, citywide Walk & Roll to School Day celebration. This past year, a record-setting 95 schools and over 14,000 students participated. Participating schools reported a significant decrease in car traffic, and over 90% of reporting schools plan to host a follow-up encouragement event, ranging from monthly classroom competitions to weekly walking school buses.
Spring Valley Science School was highlighted for making significant strides in program implementation after participating for just one year, including launching successful classroom competitions and teaching the City Street Investigators (CSI) pedestrian safety curriculum. The SF SRTS Partnership was honored to host the U.S. Surgeon General, Dr. Vivek Murthy, as a special guest to recognize Spring Valley's efforts. The Surgeon General was joined by Mayor Ed Lee and department leaders from a number of city and county agencies.
At Helen Wills Park, Spring Valley students participated in "Mayor Says" warm-up activities led by SF Recreation and Park General Manager, Phil Ginsburg. Then, together with the Surgeon General and the Mayor leading by example, students and parents traveled as part of a walking school bus from Helen Wills Park to the school. The event concluded with Surgeon General Murthy's call to action, urging everyone to "Step It Up!" by walking more and working to make communities more walkable, including his recognition of the San Francisco Department of Public Health's and Walk San Francisco's leadership on the Vision Zero campaign.