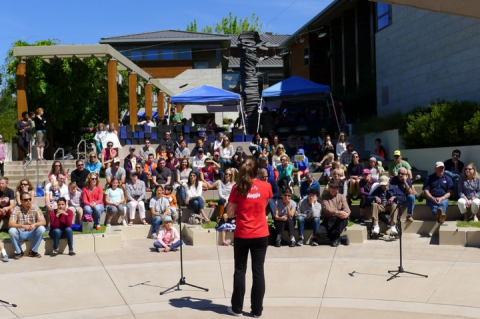 An interview with Brad Crane, Board Member with Sustainable Lafayette.
Tell us about your organization and this event
Sustainable Lafayette is a nonprofit, grass roots organization that educates and encourages local residents and businesses to be more sustainable in their daily lives. For the last 8 years, we have partnered with the Lafayette Chamber of Commerce and the City of Lafayette to host the Earth Day Festival. This year, it was held on April 26, 2015 at the Lafayette Library and Learning Center. This year's theme was "transportation" as a response to the congestion and parking issues Lafayette has been struggling with recently. We presented transportation options outside from the traditional car and brought in local bike vendors, bike link lockers, BART, solar cars, California High Speed Rail, and more.
What results have you seen after your event?
Biggest result has been bringing the transportation conversation forward in our community. Although we have not seen a reduction in congestion, we hope that it encouraged school kids to bike to school and festival goers to consider other options besides a car on a regular basis. Going forward, we also hope to be a resource for other like-minded organizations and businesses by bringing them together and facilitating beneficial partnerships, thus helping them promote their message and achieve their goals.
Were there any new opportunities that arose out of this project?
The East Bay in particular has amazing environmental initiatives and programs happening now. This event helps us meet more people and form new relationships. Hopefully they will then become regular Earth Day vendors and long term partners for us to be drawn on for specific environmental projects.
For others who may want to implement a similar project, what advice would you give them?
Partner with someone who has experience with events, such as the Chamber of Commerce, regardless of the scale of your events. Also, develop a strong relationship with City staff. Events of all sizes will usually require a permit. We are fortunate that the City of Lafayette Staff is really accessible and engaging the community, making events like the Earth Day Festival easy to put on and overwhelmingly successful.