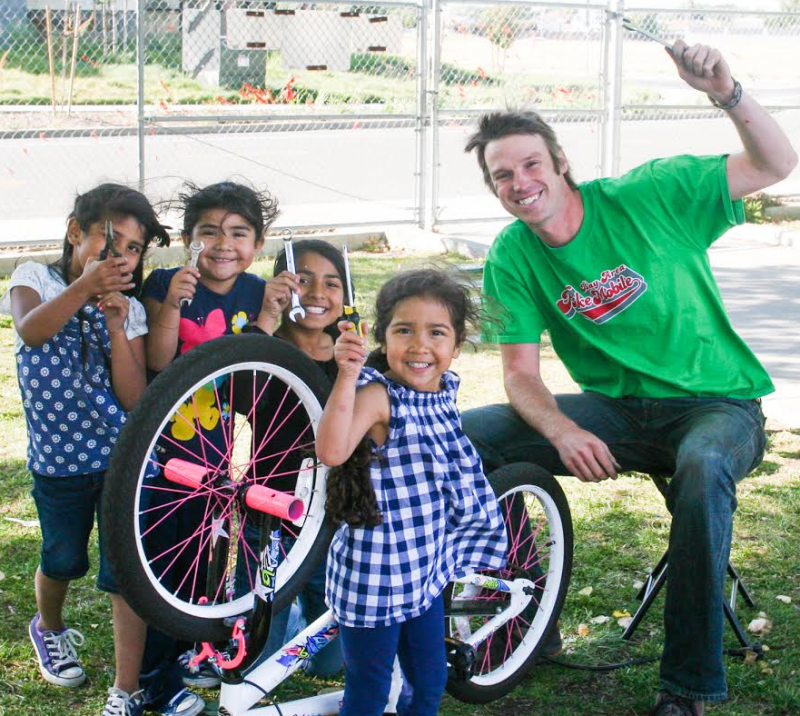 An interview with Tommy Bensko, Bay Area BikeMobile Founder and Program Director.
Tell us about the Bay Area Bike Mobile.
Once a bike gets a flat tire, it may go unridden for months or years. That's where we come in. Our free, mobile, hands-on repair clinics get people back on their bikes and helps them to become more confident and empowered riders. This is a Spare the Air Youth program that focuses on serving low income communities where barriers to biking are prevalent.
What was the inspiration for this program?
Before managing this program, I used to coordinate the Safe Routes "Drive Your Bike" program in Alameda County. We were teaching important skills to thousands of students, but at the end of the day I didn't feel like we were significantly increasing ridership at our schools. Out of frustration I asked a classroom of students why they didn't bike to school. There was the usual "my parents won't let me," or "It'll mess up my hair," but I noticed a lot of students said "my bike's got a flat tire," and I thought, "we can't do anything for your hair, but we can fix your bike." We started repairing students' bikes after long days of safety education until we were finally able to get the Alameda County BikeMobile program up and running thanks to funding from the Metropolitan Transportation Commision (MTC) and Alameda County Transportation Commision (CTC). Then, a couple of years later, MTC decided to expand the model to the rest of the Bay Area.
How does your story align with the results achieved from your program?
One of the benefits of this program is being able to witness instantaneous results. We never get tired of watching people light up and ride away with giant smiles. There is so much gratitude everywhere we go from ages 4-84. We've fixed up dozens of bikes that have collected dust for 15+ years.

Statistically speaking, we achieved the increased ridership I was looking for. After we visit a school, ridership increases by an average of 50% within a 10 day window. Since the Bay Area BikeMobile program started one and a half years ago, we have fixed over 5,500 bikes at 240 events and given away over 100 bikes.

Access to clean, affordable, and reliable transportation is both a social justice and environmental justice issue. By getting people back on their bikes, we're helping them get to work/school in a way that's good for them, their wallet, and the planet.
For others who may want to implement a similar project, what advice would you give them?
Like most jobs, it's all about the people you work with.

Finding the right teammates is key. These events, while fun, can be totally chaotic and demanding because of the high amount of public engagement and concentration required. Educators must have the technical skills, but also know how to teach children and engage the general public. Often times, those qualities can be mutually exclusive.

Finding the right partners is also crucial. It really helps to have partners that can promote and help to coordinate services within their network of schools, youth centers, etc. We're grateful to have so many amazing partners involved with this program.
Check out the following videos to see the Bay Area BikeMobile in action!