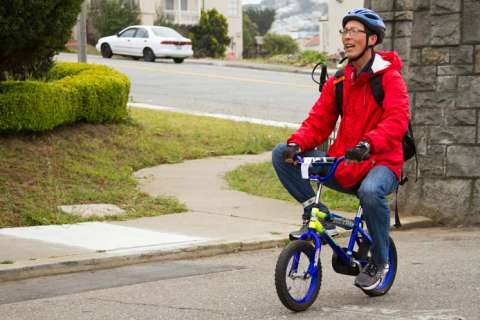 This feature was initially published by the San Francisco Bicycle Coalition (sfbike.org).
By Nancy Buffum
Bart Kay is a San Francisco biking parent who won the 2015 Bike to School Champion Award. He received a complimentary SF Bicycle Coalition membership for his volunteer efforts. Bart has organized bike trains every year for students and parents at his children's schools, most recently in April 2015 for Bike & Roll to School Week at Commodore Sloat Elementary School. Bart passionately urges parents to educate themselves and their children about urban bicycling, and to lead by example.
SF Bicycle Coalition Member since: 2015
Neighborhood: Merced Heights (near SF State University).
Schools children attending: Aptos Middle School and Lowell High School.
SFBC: What do you love about biking?
Bart Kay: I like bicycling because it's a cheap and fast form of transportation, but the bonus is that it promotes physical and mental well being. Riding a bike forces my mind to be alert and focus on the traffic around me. I get a workout when I ride up a hill (or ride against a head wind) and a thrill ride when I coast down. A 30-minute morning commute on a bike always makes me refreshed and sharp for the day.
SFBC: What's one fun story from your bike rides with your child?
BK: Recently, I was riding with my oldest son, and we were going up a not-so-steep hill. I was riding ahead of him, when he quietly surged passed me with a knowing smile on his face. He started high school this year, and he thought he could take on his old man. Luckily, I had my cleats on, so I caught up and passed him ever so slowly, in order to make sure that he could see my "nice try kid" grin. It was one of those silly competitions between a father and a son. After the hill, we laughed for a whole city block. I'm sure, in few years (or when he discovers cycling cleats), he will start beating me going up hills. I just hope then that he'll let me win once in awhile for old times' sake
SFBC: What advice would you give to other parents interested in biking with their child?
BK: You want your child to have fun, and at the same time you want them safe. Free Youth and Family biking classes by the SF Bicycle Coalition and Presidio YBike are a great resource, even if you have been riding in the city streets all your life. Choose where to ride according to the skill level of the child and your own comfort level. Sunday Streets (especially on Great Highway or Embarcadero) is fun for all levels. JFK Drive in Golden Gate Park on Sundays is great. Crissy Field is good unless you are riding west into the late afternoon wind.
Finally (this is more of a plea to parents and to all adults): when you are on the road, please be a good citizen that your children can emulate, not necessarily the bicyclist you were when you were a kid. Pay attention to the traffic, obey the rules of the road, be super polite to people walking and wear a helmet.
SFBC: Which of the issues SF Bicycle Coalition works on is most important to you?
BK: Education.
There are no driver's education classes in public high schools anymore. If you are a bicyclist without a driver's license, you may not even know the basic traffic rules, like who has the right of way at a four way stop. I think it's important for everyone to have access to learn about traffic laws, in order to be safe and courteous.
On the road a person who bikes has responsibility for their own — and everyone's — well being. I do appreciate the job YBike and the SF Bicycle Coalition do in educating student and adult bicyclists, so that motorists, pedestrians and cyclists can co-exist in the city.
Bart Kay is a true Bike to School Champion. He has given many hours of his own free time to SF Bicycle Coalition's Safe Routes to School program.
 
Thank you to the San Francisco Bicycle Coalition for sharing this story with Spare the Air Youth. See their upcoming Family Biking Classes and Adult Bicycle Education Classes. Also, considering volunteering with the SF Bicycle Coalition for 10 hours in a three-month period to earn a year's membership for free! If you'd like to get started with our Barter Membership program, please sign up here.
Photo taken by Ellie McCutcheon